The ISWL



Awards Programme
Open to Non Members
Affiliated



Clubs
ISWL



Publications
Information
Membership Form



in .pdf Format
Information Sheet



in .pdf Format
Award Claim forms



in .pdf + .doc Format
Monitor Award
Rules Crib Sheet

(
Updated August 2014
)


in .pdf Format
(Members Only Award)
Please Note
Some of our League
officers have frequent
"short holidays".
If you do not get a prompt reply to your e-mails, please let Pete the V. P. know, so that prompt help can be given.
IN ENGLISH PLEASE!.
Welcome to the ISWL HQ's home on the web.
We are an International Radio Club.
Founded in 1946 - Our membership is open to ALL Licensed Amateurs, SWL's and Affiliated Radio Clubs around the World.
Please browse around using the links on the left and right of this page.
A Membership Information Sheet and application Form can be downloaded from this page in both Doc and PDF Formats.
Please send the Completed Form to the Honorary Treasurer.
Please also Contact our Honorary Treasurer if you would like to receive a membership information pack or further Information.
By email:-


By snail mail:-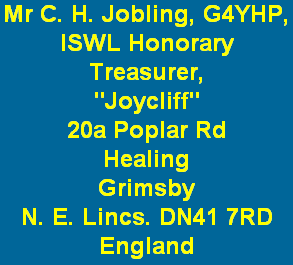 If you encounter a problem
Please contact Pete at :-


OR


Meet the Council


& Sub Editors etc.

ISWL Rally


& Events pictures
The ISWL



Regular Net Times
Non Members Welcome
Non ISWL



Publications
Links to Other



Radio related Sites
Membership Form



in .doc Format
Information Sheet



in .doc Format
Country / Prefix Lists



in .pdf, Excel + .doc Format
Monitor Award
Rules Crib Sheet
( Updated August 2014 )



in .doc Format
(Members Only Award)
ISWL Vice President
& Webmaster
Copy the links to say
Hello to Pete, or
to send him your
comments or
Event News etc.
Pete is always pleased to
hear from Ex members.